Caffeineoline Coffee House in downtown Welland is truly a gem for gourmet coffee/tea, Ukrainian and Hungarian pastries and bite to eat you will love. 
Photos by: Andy Harris, Lev8.ca
Blink and you'll miss it, but you won't want to. This gem in downtown Welland offers so many treats, you will need to go back to try them all! Operated by Zsuzsanna and Szilvia, Caffeineoline Coffee House will have your mouth watering as soon as you walk through the door of the quaint coffee house doors.  Located across the street from City Hall, tucked in to a unique entrance way, it is super convenient and open Monday - Friday 8am - 3:30pm and Saturday 9am - 3pm. 
Visiting Caffeineoline Coffee House last week, Zsuzsanna and Szilvia welcomed our networking group, (Clients & Cocktails Networking),  for a private function where we truly were able to get to know them, and all that is offered at the coffee house.. We were greeted with friendly faces and prompt service, with all of us trying the special menu put together for us including Weiner Schnitzel, Breaded Mushrooms and wonderfully fresh salads to mention a few items.  We've included a few photos below... 
Each coffee included a chocolate treat - a nice touch.  We could hardly wait to get through our meals to try the Ukrainian custard tarts and other delicious desserts offered.  When visiting this little shop, it will be a rare occasion where you don't leave with a treat for later, or fresh ground coffee to enjoy at home.  
You will also notice a collection of old gas cans and auto accessories throughout the location including the paper roll holder which is a an old gas pump.. These remained from the previous owners and add a unique bit of history to the shop.  Coffee -- fuel for the body... 
The next time you're downtown Welland, be sure to stop in: 
Caffeineoline Coffee House
63 East Main St, Welland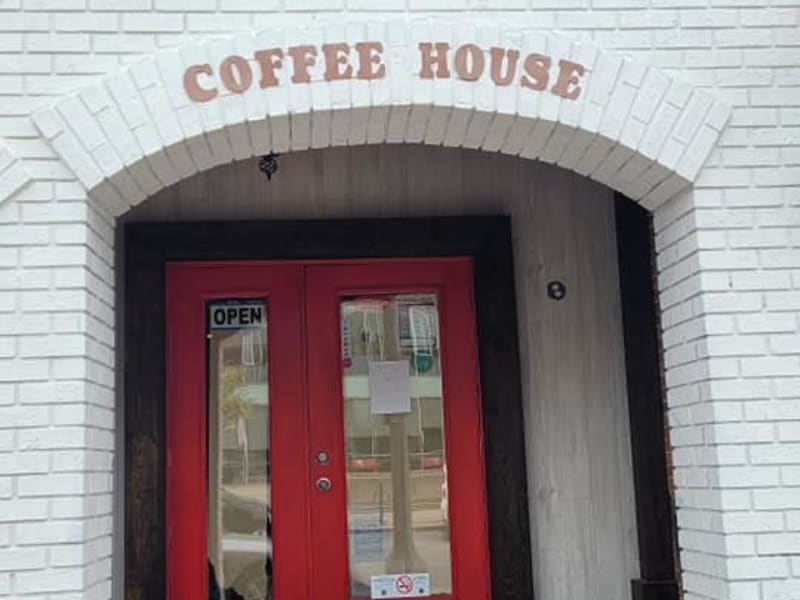 ---
About Clients & Cocktails Networking: A casual networking group that meets every Friday from 3:30 - 6:00 pm at a local restaurant throughout Niagara. We rotate from city to city within the region each week, so you will need to know where we are each week to attend. We enjoy learning about and promoting the locations we visit as much as getting to know other business people within the region.  If you would like more information contact Debi for details.